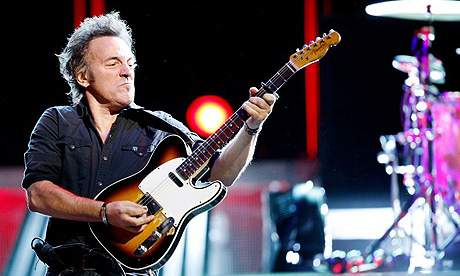 It just doesn't get much better than Bruce Springsteen…and I'll fight anyone who says otherwise…Well, I'll have some words with them…strong words.
I love this lesson, it's nothing flash or fantastic but it really really works. It helps students to come to grips with the FUTURE in English. It really is a tricky area to get your head around and they need a lot of practice. This lesson not only has practice but gets them thinking about some all important questions:
Why did you choose this future form over that one?
Could you use another one?
Would it have the same meaning?
What information does the speaker wish to convey?
I very often do this lesson a week or so after we've tackled future forms or perhaps for higher level groups who should probably know it already but just need a reminder.
It also works well in conjunction with this short lesson I put up before. It's a quick and easy lesson designed to encourage them to think about what information these different forms can convey.
Level: Intermediate and above
Time: 3 hours
Objective: Revise future forms / encourage sts to think about the information each form convey.
Sub aim: Raise awareness of features of natural speech.
Procedure: see the materials below. It is quite a long one so I thought I'd make it printable outable (is that a thing? is now!)
Materials: